Paul Pogba silencing critics
Paul Pogba may still have to go some way to justif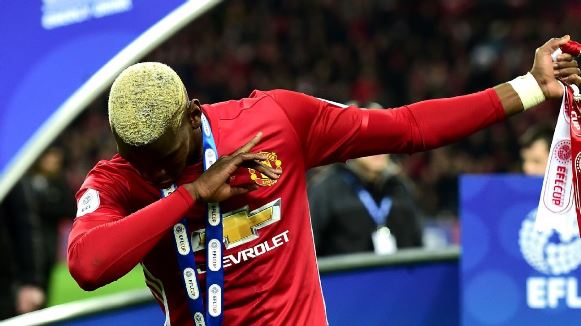 Paul Pogba may still have to go some way to justify his £89 million price tag, but at Manchester United he is finally beginning to show football fans the reason why United spent so big on a player they sold to Juventus four years ago for less than £1 million.
The Manchester United midfielder has sparked debate throughout the season but his match-winning display at the Etihad Stadium against Manchester City would have certainly attracted attention.
The No.6's bold blue hair style fuelled plenty of debate prior to the game and his first half performance only gave his critics further ammunition. However, his double-goal salvo in the second period served a timely reminder of his quality.
The Frenchman stepped up with two goals in as many minutes to drag United level with City at the Etihad on Saturday after being 2-0 down. It was a much-needed response from Pogba after Pep Guardiola claimed his agent, Mino Raiola, had offered him the chance to sign him in January 'Paul Pogba was the talk before the game and he went on to make sure he was the talk after it (for the reasons he so desperately wants them to be).' Rio Ferdinand (@RioFerdy5) wrote on Instagram.
He added: 'Knowing Paul, he will want to be talked about as a great player but his extravagant hairstyles and dance moves have too often overshadowed his performances. 'All he has to do is make sure he keeps producing performances & goals like we saw vs City and that will be the conversation with him rather than the other stuff. 'He was let free or had to play in a more advanced role due to the scoreline which allowed him to do what he does best - less defensive responsibility and allowed to attack like he learnt and did at Juve with the results we saw in the second half at City."
Pogba, blossomed into one of the world's best midfielders at Juventus, helped The Old Lady win four Serie A titles, two Coppa Italias and make a Champions League final.
United thought they were getting the finished product, but he has taken time to adjust back into life in English football, albeit slower than what fans may have expected.
However, Pogba finally looks settled in a midfield three rather than a midfield two and fans can watch one of the world's most expensive players live at the stadium with Football Ticketpad.
Pogba was a regular in the United team since rejoining the club from Juventus in August 2016, but was left out of United's starting line-up for both legs of their Champions League last-16 defeat by Sevilla in February and March 2018. And has endured an indifferent campaign at Old Trafford.
He claimed that being played in a midfield three - as he did when he flourished at Juventus - alongside Ander Herrera and Nemanja Matic was hugely beneficial to both him and the Red Devils.
Pogba told Sky Sports: "It's hard to make this run in a two. You have to stay and you have to control. When we have three players, I know Matic will stay behind, and you have more freedom to go in front."
Pogba has played in a midfield two for the majority of the season, with differing results.
In Manchester United's defeat to Tottenham this season, Pogba played in a midfield two alongside Matic, and struggled. The 25 year-old was hooked before the end of the match and even had an argument with Mourinho on the touchline, sparking rumours of an apparent rift with his manager.
Pogba, United's record signing, had made just three starts since engaging in a heated touchline exchange with Mourinho during the 2-0 defeat to Tottenham Hotspur in late January. The 25-year-old is no longer guaranteed a place in Mourinho's side and saw academy graduate Scott McTominay selected ahead of him in both recent Champions League knockout ties against Sevilla.
The Frenchman's match-winning performance against Manchester City will live long in the memory, but the question remains whether he can consistently hit those performance levels on a regular basis in order to justify his £89 price tag.