Luka Modric wins FIFA The Best
The Croatia World Cup Finalist and Real Madrid ste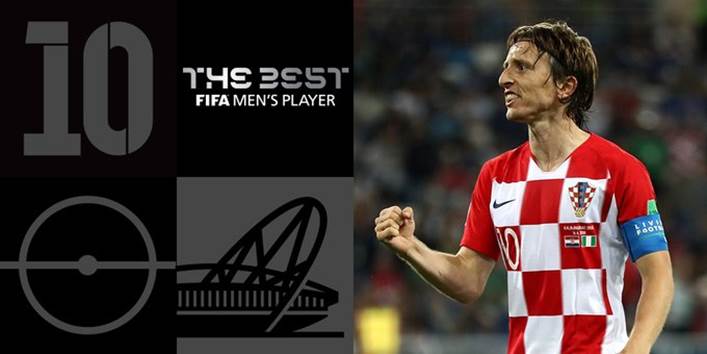 The Croatia World Cup Finalist and Real Madrid stellar midfielder, Luka Modric, yesterday won FIFA's The Best award for 2018. By doing so he finally ends the duo Cristiano Ronaldo and Lionel Messi's decade-long tenure to an end. An achievement that seemed impossible at the start of the 2017/18 football year.
The former Tottenham Hotspur player became the first Croatian football player to win the award after a remarkable season for both club and country. With some football odds on winningsportsbets.co.uk predicting the usual wins for either Ronaldo or Messi at the start of the season, Modric remarkably won 29 percent of the votes, and thus beating Cristiano Ronaldo by ten percent and overtaking the other contenders; Mohamed Salah (11 percent), Kylian Mbappe (10 percent) and Messi (9 percent). Incidentally or not, both Messi and Ronaldo were missing from the event, which was held in London.
After receiving the award, Modric said: "This award is not just mine. It is (for) my teammates from Real Madrid and Croatia. Without my coaches, I would not have won this and without my family I would not be the player I am today".
The last player to win the award which was renamed in 2016 from the FIFA Ballon d'Or to FIFA's The Best, was Brazilian player, Kaka, way back in 2007. By winning last night, Modric finally ended Ronaldo and Messi's winning stretch which lasted for ten years.
Modric's win might not come as a major surprise to some football fans, as he was regarded as the key player to Real Madrid winning a third Champions League title in as many seasons. Also, in the FIFA World Cup 2018 competition which was held in Russia over the summer, he captained his national team Croatia, and picked up the Golden Ball, after leading his country to the final only to lose out to an impressive France team.
Modric ousted former teammate Ronaldo and Liverpool's Salah on the final three-man shortlist to win, after beating the same pair to win UEFA's Men's Player of the Year award for the 2017-18 season.
Winning this prestigious award will somewhat compensate Modric of the ordeal he has had to go through with the Croatian judicial courts. This is after it was emerged that both he and Liverpool's Dejan Lovren received 50% of the transfer fees that Dinamo Zagreb received following transfer moves to Tottenham Hotspur and Lyon. This fee was then given to Mamic, who was a Dinamo executive at the time. In an ironic turn of events, it was only three days ago that Modric accepted an 8-month suspended prison service, after admitting two counts of fraud. He will be given the chance to substitute the prison service for a £54,000 fine, not bad for someone who is reported to be earning £6.8M per year.