The importance of small print in betting offers
As online betting continues to grow in popularity,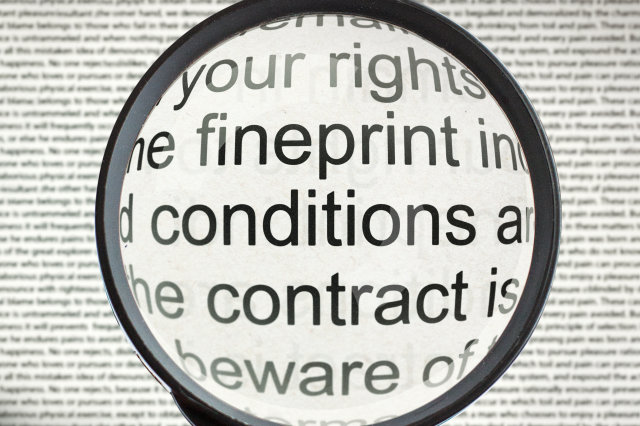 As online betting continues to grow in popularity, helped on by a raft of technological advances which makes having a bet easy, convenient and quick, bookmakers have been dragged into a race for your custom. The emergence of many start-up companies has flooded the market, making it as competitive as ever for newcomer bettors.
Similar to the mobile phone contract business in the 2000s, it's a cut-throat game with firms literally falling over themselves to win your attention. With this comes a flood of incentives, including new player welcome bonuses, free bets, price boosts, special offers and even free bets. It's a great time to be a punter as you can sit back and pick ripe fruit from the tree.
It's perfectly acceptable to have an account with many different firms when picking a bookie, taking advantage of the offers on show. Another plus side to spreading your betting across a few bookmakers is you'll always have access to best prices. Simply make your selection, check any price comparison website and get your stake down with the firm offering the most value. It's a buyer's market.
It's certainly something worth doing and the fact the welcome bonuses and offers are constantly evolving and being updated to remain competitive means it's best to browse through the top firms to get an idea of their latest deals. This takes a matter of minutes but could pay-off in the long-run, there's even sites that review and show in detail the terms for offers, like football-betting-sites.co.uk for UK brands or www.bettingsite.org for US ones.
During your search you'll notice the promotions become bigger and bolder, seemingly offering new customers the world on a plate. Register for a new online account and they'll give you a stunning price on a favourite, or bulky free bet, such as bet £10 get a £20 free bet.
The likes of Coral and Ladbrokes like to enhance the odds on a popular selection – such as Man City to win the Premier League or Novak Djokovic another Grand Slam – by at least 10 times the quote available elsewhere. A 2/1 jolly for standard online customers may be enhanced to a 20/1 shot for new faces. Stunning, and long may it continue, but we shouldn't get carried away in the belief that the streets are paved with gold. These deals are coming from bookmakers with a rich history of making strong annual profits and they're not in the business of giving away free cash.
When finding yourself tempted by one of the many promotions offered by online bookmakers, it's crucial that you take the time to read the small print to avoid any nasty surprises. The dreaded T&Cs. We're all guilty of clicking a box to say we confirm we're read paragraphs of boring print, without ever bothering, but there are a few points of note on there that have become standard, and we'll cover them to ensure you're kept in the loop.
Here are a few examples of terms and conditions that are easy enough to miss, but could prove problematic for punters…
- Qualifying bet means, although you are offered a free bet on sign-up, £20 for example, you must make a qualifying deposit of at least £10 and wager that on a bet that meets strict criteria. This includes minimum odds – usually 1/2 or better – no accumulators and no cash-out. Back a winner with your first bet at 1/3 and it won't count towards your free bet. Cash out for a tidy profit and it won't count towards your free bet. It's not as easy as it sounds.
- Time deadline is another that could catch you off-guard. Yes, most of us open an account and use the free bet straight away as a means to getting off to a winning start and beating the bookies with their own money, but it you plan to wait on a certain match or market, you could come unstuck. Check the T&Cs regarding deadlines as usually the freebie must be used within a couple of days or it will be cancelled.
- Free bets can't be redeemed for cash. Here's one that really sticks in the throat and causes anger amongst punters. So, you've opened your account, followed the many rules and regulations to activate your free bet and used it to back a nice price winner. Happy days – time to trot down to the bank and spend your cash. Not so fast! Many bookmakers have a clause included that says any free bet winnings will be paid in more free bet tokens, in other words, not cash. So, in reality, all you've won yourself is more free bets. Frustrating.
- Limited to certain odds. As before with qualifying for your free bet, it may be limited to certain odds, ie only usable on selections priced 1/2 or better. This is one of the more sensible additions as it stops people using the freebie on a short-priced certainty, such as a 1/4 poke and simply skimming off the small profit before moving on. Do that with enough firms and you'll build a decent sum of money.
- Limited to sportsbook or casino. This is fairly normal in the industry and, we must say, it makes sense. Sportsbook customers can only use their free bet and any winnings from it on sportsbook markets, casino free bets must be used on casino markets. This means you can't have a 10/1 winner on horse racing and transfer it over to play on the Roulette wheel. Opening an account with the casino arm of the same bookie will entitle you to a casino promotion, and vice versa.
- Doesn't include all markets. Many promos cover only the match winner market, or build a bet, something designed to promote a specific market or limit your potential winnings. Some free bets can't be used on first goal scorer or handicap betting, for example.
- Max winnings. Bookies often limit your winnings from a free bet. Build your £25 freebie into a £1700 sum and you'll be entitled to just £100 of it. There's usually a ceiling placed on your potential returns, so check this before getting too excited.