Getting the Most out of your Betfred Experience
Betfred is a popular online casino and bookmaker r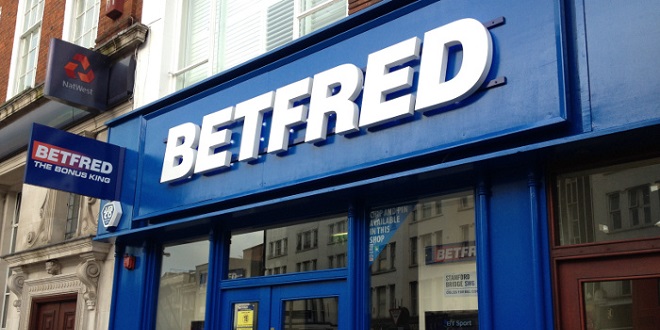 Betfred is a popular online casino and bookmaker registered in the UK. The company started as a small betting shop in 1967 but has now grown into a global brand available in more than 60 countries. Just recently, the company opened its doors to American bettors, signaling a new beginning for the North American market.
Betfred restricts players from about 100 countries. But if you are lucky to live in a country where the bookmakers offer its service, maximize your experience on their site using these tips.
Claim the £30, Welcome Bonus
When you sign up and create an account on Betfred, you are welcomed with a £30 bonus that becomes activated after you deposit £10 or more. Most online casinos and betting sites use a different approach by matching your first deposit 100%.
Still, the free £30 Betfred offers new players is worth accepting. There are some rules that come with the bonus though. First, the bonus expires within 7 days. If you don't make a deposit and bet within that time frame, you lose the offer.
Despite the expiry label, there are zero wagering requirements for your Betfred bet. Whether you choose to use the bonus to play blackjack or to wager accumulators, everything you win is yours. Almost no other online casino allows you to walk away with bonus wins without committing to more bets and wagers.
Use E-Wallets for Deposits and Withdrawals
Betfred supports more than 10 payments options. All of them are safe and protected through encryption. Find out more about your safety at the casino in this Scams.info Betfred review. Safety aside, e-wallets are the best payments options on the bookmaker for a variety of reasons.
First, deposits using e-wallets reflect in your account instantly. From Neteller to Skrill to PayPal—any deposit using any of these payment options are processed instantly. By comparison, deposits done through bank transfer takes 3-5 days.
Another benefit is that there low minimum deposits for e-wallets at £5. Of course, you want to deposit £10 to claim the casino's £30 bonus. But for your second, third and consecutive deposits, Betfred allows you to deposit as little as £5 when using e-wallets and credit cards.
When it comes to withdrawals, e-wallet users also get things done faster. As debit/credit card users wait 3-5 days for their wins to be processed, Betfred processes win for e-wallet users within 48 hours. Bank transfer users wait for the longest, with payments taking as many as 8 days to be processed.
Compare Different Wagers in Sports Betting
Betfred offers competitive odds in more than 500 games every day yet many bettors only look at their win, lose or draw odds. Stick longer on the website and you find 25+ wager for each game, some with better odds than the money line bets.
If you are open to wagering over/under bets, both teams to score and other similar wagers, Betfred introduces you to an exhaustive list of value odds. Make sure you research beforehand before backing any wager though. While there are many bets and odds in any betting site, the goal is to win at the end of it all.
Consider Betfred's Special Bets
Beneath the usual money line and prop bets, Betfred offers bettors a variety of options to maximize their wagers at no extra costs. In one special bet dubbed the double delight or hat trick heaven, Betfred doubles or triples your bet if a player you backed to score the first goal of the game scores 1-2 more goals.
In an example, let's say you back Messi to score the first goal in a game between Barcelona and Real Sociedad. The odds are 1.7, meaning you earn €17 from a 10 bet. Should Messi score a second goal, Betfred doubles your wins to €34. If he scores a hat-trick, the company triples your €17 win into €51.
While predicting which player scores the first goal can be tricky, Betfred makes the effort worthwhile. The best way to utilize this wager though is to back players consistently known to score early goals. Again, bet on players with a record of scoring two or more goals against certain opponents.
Another option is to accept the bookmaker's Acca bet insurance. Acca stands for accumulator bets, where you combine at least four wagers into one. With Betfred's insurance, wager a five-fold accumulator and the company gives you a free bet up to £10 if only one team spoiled your bet.
Check out the Casino Section
While Betfred is famous for its bookmaking services, the casino section of the company is worth the time. With games from the biggest software providers, frequent promotions and little minimum bets, you get a better experience on the platform than in most other sites.
Betfred's RTP for slots is 96.1%. Some slots have an RTP of up to 99%. So, when you start playing on the platform, you can be assured the casino does pay. The casino's game variety is also overwhelming. From table games like blackjack and poker to lotto, video slots to live dealers, Betfred's online casino offers comprehensive services.
Use Betfred to Stream Sports Events
As long as you have money in your Betfred account, you can live stream the NBA, football, horse racing, handball and a handful of other games and leagues. The best part about their live streams is that they are free and do not have any adverts.
Each live stream is also accompanied by live, English commentary. What's more, the company has invested heavily in its website and app to avoid lags as you watch. Essentially, live streaming football on Betfred is as great as doing it at home.
To Conclude
Betfred is more than a bookmaker. It's also an online casino that offers popular and unique bingo and lotto games. But unlike most casinos, Betfred is full of great features and offers that can help maximize your wins on their platform.
Not everyone is accepted on the platform which is unfortunate. But if you are able to create an account on the website successfully, use the tips highlighted above to optimize your experience.