Die Gelbe Wand: A must-see for every football fan
Borussia Dortmund is a club with a lot of young ta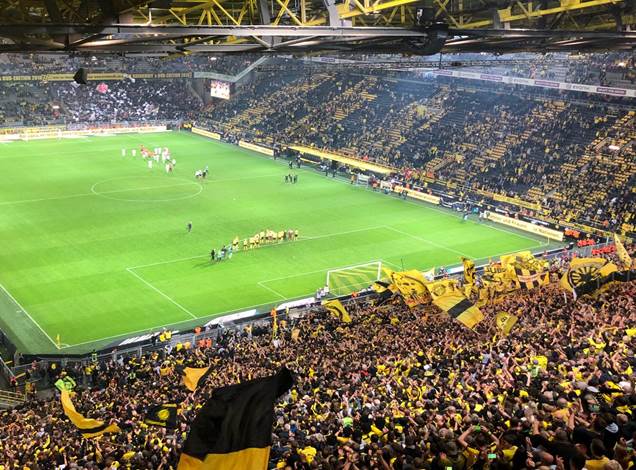 Borussia Dortmund is a club with a lot of young talents, but their last championship in the Bundesliga was in the season 2011-2012. Many talents make the step to rival Bayern Munich when they get that opportunity. The fans of Borussia Dortmund are not leaving their club behind. Every game the stadium is full and the atmosphere is great.
Since 1974 Borussia Dortmund is playing in the current stadium. It was called 'Westfalenstadion' till 2005. In this year the name changed to Signal Iduna Park due to the club's financial problems. With a capacity of 81.000 Signal Iduna Park is the largest stadium in Germany. This capacity is including the biggest standing grandstand of Europe with 25.000 places. During international matches there are no standing places allowed, so during these matches the stadium has a capacity of 65.000. The standing grandstand is also called 'Die Gelbe Wand', which means 'The Yellow Wall'. The fans on this side of the stadium are supporting their players the whole match and they provide an amazing atmosphere in the stadium.
'Die Borussen' still have a chance to grab the Bundesliga title in the current season. They are one point behind of leader Bayern Munich and there are five matches left for both teams. Are they able to win a sixth Bundesliga title?
Are you a big football fan and do you want to visit the incredible stadium Signal Iduna Park in Dortmund? Compose a Football Break Dortmund and you will see 'Die Gelbe Wand' live in action during a Borussia Dortmund match.