Carroll thanks Dalglish for support
Carroll thanks Dalglish for support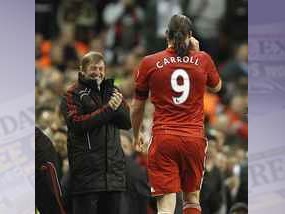 Liverpool hitman Andy Carroll has thanked manager Kenny Dalglish for keeping his faith in him despite his disappointing season.
Carroll's record was no bigger than nine goals in 47 features, but his recent good form – never since in Anfield since his £40 million arrival in January 2011 – has seen him bag three goals in the last six appearances.
And the England international appreciates that both manager and supporters stuck to him during the difficult times.
"Kenny has shown a lot of faith in me. I haven't had the greatest season but he has stuck by me and defended me and encouraged me a lot," he said.
"I am confident of doing well all the time and I think it is not just the last two games, I think I have played well in a few games. I am enjoying it and I think you could see I have been enjoying my football and training."
He added: "I am just confident every time I step on the pitch and I think it has shown it the last few games. I think I just needed a bit of a run."