UEFA Champions League 2018-19 Quarter Finals Review
With the final stages of the UEFA Champions League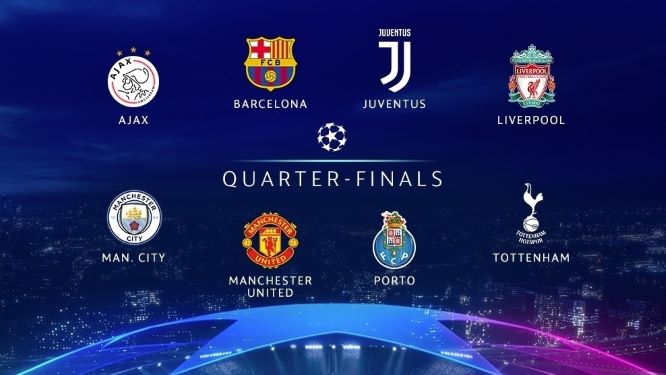 With the final stages of the UEFA Champions League 2018-19 just around the corner, we take an in-depth look at the likley finalists of the most prestigious football club competition in the world with many football predictions around.
We will start with the match between Liverpool FC and Porto which will take place at Anfield on Tuesday 9 April. Last year's finalists from Merseyside, will no doubt be expected to progress through even though it seems that some of their players are already prioritising winning the English Premier League over winning the UEFA Champions League. This might be due to the fact that Liverpool has spent the last 29 years dreaming of being the champions of the EPL, all this time seeing their arch rivals Manchester Untied dominating the EPL under the guide of ex-Scottish manager Sir Alex Ferguson. A win over Porto in two legs will mean that Liverpool will face an English side with either Tottenham Hotspur or Manchester City in the semi-finals.
Spurs have nothing else to fight for other than making it to the Top 4 of the EPL, so winning the UEFA CL trophy under manager Mauricio Pochettino will no doubt be their best season yet since winning their famous double back in 1960-61. Unfortunately for Spurs fans, this is very unlikely to happen when considering that the best odds comparison websites overwhelmingly place manager Pep Guardiola's Manchester City players as the most likely to be the champions of both the EPL and the UEFA CL. Therefore, a semi-final between Liverpool and Manchester City will be a game we can almost definitely expect bar any surprises. But which team will make it to the final? We shall wait and see, but under the current form you have to go with the Citizens.
In the other quarter finals draw we have Ajax playing against 'Cristiano Juventus'… It will be a major shock if Ajax who managed to knock out Real Madrid can do the same against the Old Lady with the Portuguese star appearing to be in amazing form, again. Therefore, the team that is likely to meet Cristiano and co in the semi finals is going to be either interim coach Ole Gunnar Solskjær's Manchester United or 'Messi Barcelona'. United shockingly knockout out PSG, albeit, with the help of a controversial VAR decision deep into stoppage time. However, it will be unlikely for the Red Devils to do the same to the Catalan team who are considered to be the strongest team in the competition along with Manchester city. Therefore, a mouth-watering encounter between Cristiano and Messi is on the cards.
Our Predictions:
Semi Finals: Liverpool v Manchester City and Juventus v Barcelona
Final: Manchester City v Barcelona
Winners: Barcelona