Mancini angered at Johnson tackle
Mancini angered at Johnson tackle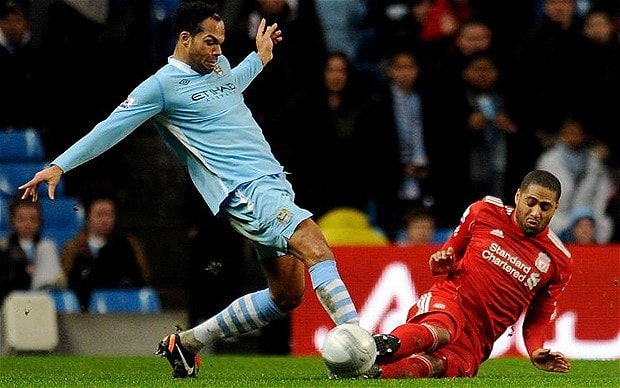 Manchester City boss Roberto Mancini has claimed Liverpool's Glen Johnson should have seen a red card as his tackle on Joleon Lescott was worse than the one that got Vincent Kompany sent off against Manchester United.
Kompany is now serving a much-contested four match ban and Mancini reacted angrily to Johnson's tackle, which he defends was harder than his skipper's, as he had a particular clash of his own with Steven Gerrard.
"It was worse," he said after City's home defeat to the Reds for the first leg of the Carling Cup semi-final. "This tackle was worse. Gerrard came to me and said I said something. It was not for Johnson. It is for the tackle. It was worse than Vinny's. Everyone can see it."
Savic needs "experience"
The Italian tactician opted to give a playing opportunity to summer signing Stevan Savic to replace the skipper, but the youngster had a rough night, conceding Liverpool the winning penalty. However, Mancini gave the centre-half his backing.
"Savic needs to get experience," Mancini said. "It is normal. Against a striker like Andy Carroll maybe he could have some difficulties."
January still key
City endured two consecutive home defeats, something unprecedented since early 2008, but Mancini claims he had already warned to the degree of difficulty of the first month of 2012.
"We have just played two difficult games. I knew this before, when I said that January will be an important month for us because we lose three or four important players."