Guardiola: Robben is a "gift"
Guardiola: Robben is a "gift"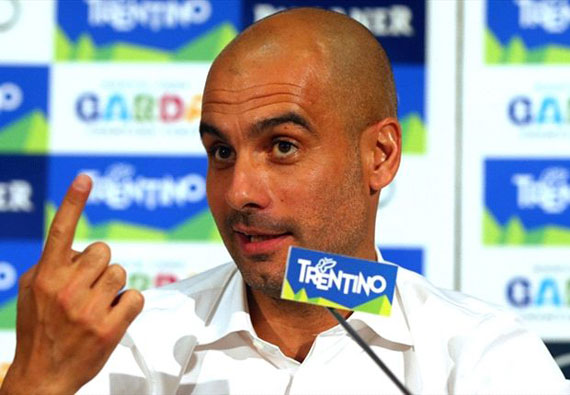 New Bayern boss Pep Guardiola has backed Dutch winger Arjen Robben and inists their could yet be a future for wantaway striker Mario Gomez.
Arjen Robben has been linked with a move away from the Allianz Arena and Gomez has been heavily linked to Serie A side Fiorentina in recent weeks.
Guardiola however insists he has no problem with Mario Gomez and has high praise for Arjen Robben who he calls a "gift".
"Mario Gomez is here with us because he is a Bayern player and he will train tomorrow," he told reporters in a press conference on Thursday. "I have worked with him this week and he's been very professional.
"Robben is a gift for me, he's a very intelligent player.
"My first week in Munich has been very good in terms of training and getting to know the players. We've all learned a lot. The players and club have helped me out a lot. They've helped me with the language and shown me a lot of support.
"I have a lot of plans, I have been using this period to learn where and how each player can play, and I will keep trying things out."
The Spaniard also insists he will only make small changes at the club initially after their huge success last season but that his side keeping the ball is his highest priority.
"I don't like my opponents to have the ball," he added. "I want the ball for my team. Jupp Heynckes did an amazing job and it's my job to keep up what he did.
"The team have a very intelligent style of play, they've won the Champions League and been in three finals in four years. Obviously, I just have a few ideas of what I want to add to the team to make them improve. The fans pay good money for tickets and we want to repay them by scoring goals.
"We have various systems of play. I've made plans to play with a striker and with a 'false nine'. Both options work for me."
Guardiola also insists he is not worried about taking over at a time when the side have won everything they could win and he believes the successes are already in the past and his Bayern side must look forward.
"We need to look to the future and think about what we can win next. We won't look back, the best clubs, like Barca, AC Milan and Bayern never have done," he continued.
"We have to win, win and win. Of course, we will make mistakes. My job is to make sure those mistakes aren't repeated. I'm not worried about needing time, but this is not the ideal place to not win. We have to work well right from the off."