Gerrard trusts Liverpool will bounce back after FA Cup defeat
Gerrard trusts Liverpool will bounce back after FA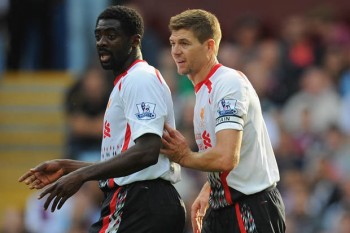 Steven Gerrard stressed that Liverpool will "strengthen" next season, after being defeated by Chelsea in the FA Cup final, last Saturday.
The Anfield Road outfit sit in the ninth position of the Premier League table, two matches before the end of the season, and even though the 31-year-old midfielder conceded that their campaign has not been acceptable, he believes the Reds will bounce back next season.

"We are Liverpool, we will bounce back. We will strengthen in the summer and we will come back and fight again. That's what this club does," Gerrard told The Telegraph.

"All through my career it's been about highs and lows. This is a big low. My opinion has not changed on how the season has gone."

"We have been superb in the cup competitions, reaching two finals, and you have to give the players a lot of credit for that. But the league form has not been good enough."

Liverpool have achieved just five league victories at Anfield, but the England international insisted that it is up to the players to make the changes needed to strengthen the team, next season.

"We need to find a better level of consistency in the league – the performances haven't been good enough," he added.

"There are no excuses. We as players need to take responsibility for that showing because the players we have in that dressing room are certainly not eighth-best in the league."

FA Cup final

In regards to Saturday's FA Cup final defeat to Chelsea, Gerrard felt that the Merseyside club deserved to take Chelsea to extra-time.

"I think on our second half performance we certainly deserved to take Chelsea to extra-time," he said.

"But I don't think we did enough over the 90 minutes to deserve to win the game."