Arbeloa hits back at Benitez over Mourinho
Arbeloa hits back at Benitez over Mourinho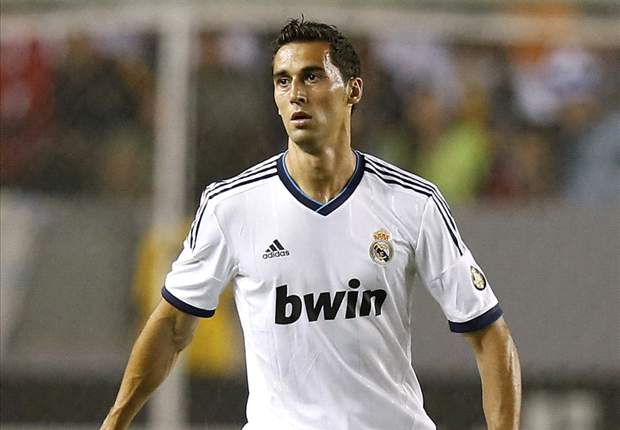 Alvaro Arbeloa has hit back at claims Rafael Benitez made regarding Jose Mourinho damaging the reputation of Real Madrid.
The Napoli boss suggested that new boss Carlo Ancelotti could "restore the values" of the club after Mourinho's turbulent tenure but Arbeloa believes these claims seek to undermine the side.
"I think that this issue about the club's values has been used as a weapon against Real Madrid," he told Efe. "It has conveniently been used on occasion.
"I feel that the most important thing is that the team has given everything it has got out on the field to win. I might add that Santiago Bernabeu was a president who always spoke his mind.
"If you look back at everything that Mourinho has said, you'll see that those values are present in the words he says – to win by giving everything to defend the Real Madrid crest.
"When you spend three years at a club like Real Madrid you cannot always make the right decisions. We all make mistakes, I make mistakes every day. When you are Real Madrid's coach and you have to make many big decisions, you are bound to get some wrong. I am sure that Mourinho made mistakes but he made them with the belief that he was doing the best for the team and without any bad intentions. Nobody is perfect.
"Now with Ancelotti, the same could happen. I am sure he will get a lot of decisions right and some, he'll get wrong."
Arbeloa surprised many when he stood by Portuguese boss Mourinho over the Casillas row and the Spain international insists more should be like him and that there is not enough sincerity in the game.

"I have always told them what I thought when they have written something which I don't like. Not many footballers can say the same – a lot of players keep quiet, fearing they will be punished. I have never been afraid to speak my mind and when the press write something which isn't true, I have always responded with respect. But that has caused me to make many enemies.
"In the football world and in the world in general, today it seems that being sincere is viewed badly."