The Biggest Acca Wins in Football
Accumulators have long been a favourite option in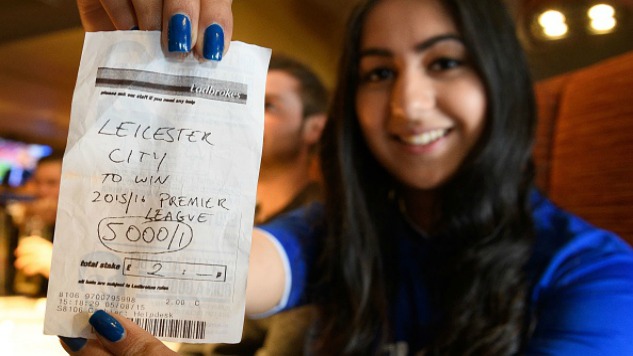 Accumulators have long been a favourite option in betting for the ability to provide some huge winnings of relatively small wagers, and as more services start to offer accumulators like some more online casinos for example it provides more opportunities for players to win big too. Football has always been a great choice with in-play betting and last-minute wonders, and some of the biggest wins have come from these last-minute accumulators, but where have the biggest accumulator wins in football come from, and what were the odds?
£650,000 on a £100 bet
One that is quite well known amongst punters came a few years ago – any punter looking to put £100 down on a bet typically resigns themselves to not seeing that £100 again, but this wasn't the case. With a last minute eight-fold, as all eight teams were losing, and a bet that had just 20 minutes to materialise, this lucky punter was able to pull £650,000 on a £100 stake, at 6,542/1 odds within the last few minutes of play. A big initial bet, and a huge return too, and certainly one that has inspired many other players to look for last minute betting options since.
Half a million on 30p
Whilst not the biggest return in terms of value, certainly amongst the biggest for the initial wager made, and for the stakes on the line too. Having predicted the winner of nine football competitions, it came down to a penalty shootout between Bayern Munich and Valencia Champions League final way back in 2001 – with the needed result bringing in £500,000 win on an initial 30p bet at 1.6 million to one odds – an enormous result, and one hard to replicate for punters since despite the many that have tried and come close.
£185,000 on 3700/1
Quite a recent bet compared to some others having been made back in 2019, the 20-fold wager of £50 came from an anonymous punter betting on Bayern Munich – another case of a bet not expected to see return, but a big win that came with a congratulations message from bookmaker William Hill who had the misfortunate of having to pay-out this great and unexpected win.
These are just a few of the many big accumulator wins that have paid off in a huge way, and certainly won't be the last as they continue to become more popular, and the different odds-on bigger fold accumulators become more popular too. Soon enough there may be some big stories of those who have won more across multiple sports as is also becoming more common, giving the possibility of more crazy odds and even crazier winnings to boot.