Parreira: Time to end Spain era
Parreira: Time to end Spain era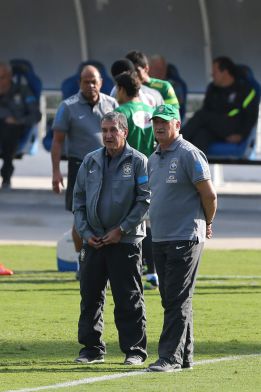 Former Brazil coach Carlos Alberto Parreira has backed the current side to bring an end to Spain's era of dominance and claim their third consecutive Confederations Cup title.
Parreira coached Brazil to world Cup glory in 1994 believes the current side under Scolari can take heart from Italy's performance against Spain and bring La Roja's remarkable run of success to an end.
"It is now the time to end the era of Spain," Parreira, now technical director of the Selecao, told reporters in Brazil.
"I have been talking with Scolari and the coaching staff and now is not the time to change tactics.
"We have to maintain the line we have taken so far. Brazil are playing at home and have to keep the initiative in the game.
"This is the game that everyone hoped for, but the fans would not have chosen this opponent for the final.
"But, since it is Spain, we welcome them. Brazil are in an excellent moment, they have confidence, it is easy to see.
"Scolari has done a wonderful job this past month. We have played against five world champions and not lost a game. We look ahead knowing that we will play very well.
"We know that Italy had a wonderful first half against Spain [on Thursday], showing that with will, determination and intelligence, it is possible to beat Spain."