Mancini - We have two fingers on the title but it is not enough
Mancini - We have two fingers on the title but it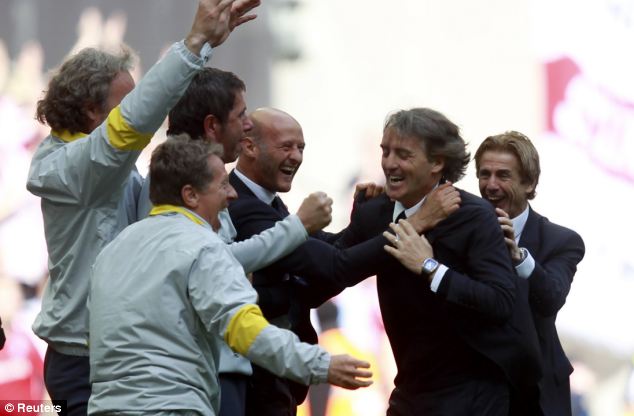 Manchester City boss Roberto Mancini is aware that his side have 'two fingers' on the Premier League trophy but insists he will not let his players be carried away.
Unless Manchester United pull off a stunning nine-goal lead against Sunderland, a win over QPR will see the Citizens lift the first league crown in 44 years, following crucial wins against Newcastle and the Red Devils themselves.
"We have two fingers on the trophy. But it is not enough, because we still have one more game and it is a difficult one. My feeling is good after the Newcastle result and so is the feeling of the players. But we need to play the QPR game in the right mood," he said.
"We have managed to keep the players' feet on the ground. We did it before we played United. Then we did it last week before we played Newcastle. We won't change anything. If we don't keep our concentration and prepare for the game, it will end up beingvery difficult."
However, the Italian tactician insists there is no added pressure on his men as they have already done the most difficult thing.
"We don't have pressure. Leading up to the Newcastle game, maybe we had some. But now now. We just need to play one game and we just need to play as we did on Sunday."