How Fans React On Football Clubs Gambling Ads?
All thanks to a new survey that was carried out re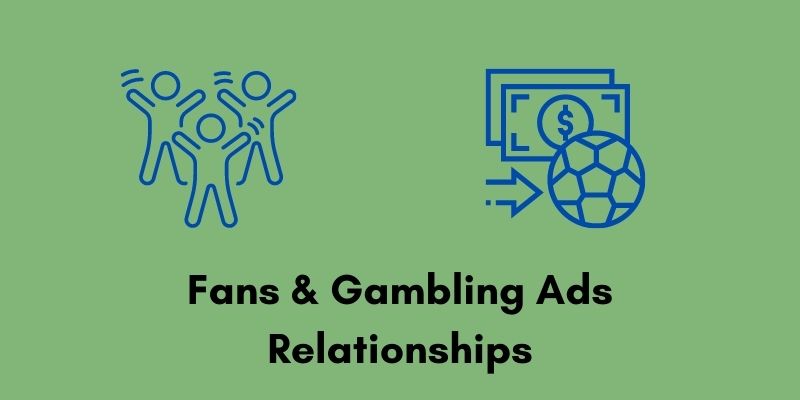 All thanks to a new survey that was carried out recently on football fans in the United Kingdom, it has been confirmed that these fans do not agree with the position that the sports industry and their different football clubs are doing enough to protect them and minimize kid's exposure to betting adverts.
They acknowledge the reality that betting sponsors' relationship with football clubs has gone out of bounds and is beginning to threaten the common ideals the sports stand for. This text will examine the reactions and views of these fans to the gambling ads on display through various media by their football clubs.
Betting Logos At Football Shirts
Recently, news coming out from Cardiff City states that the football club announced their new global gambling agreement with UK-listed online betting firm, 888 Holdings which will see the betting firm's logo on display on the club's training kit. The CEO of Cardiff City, Ken Choo let out his excitement and thrill concerning the announcement of this new partnership deal. However, the fans of this football club do not feel the same way.
It is quite alarming to discover that of the 44 top football clubs in English football, 26 of them are partners with gambling firms and so, carry a betting firm logo on their chests whenever they play or train. On the other hand, these ads do not promote non GamStop football sites for vulnerable bettors. This dominance is a result of the bid by betting firms to attract promotion during games broadcast to a wide number of the global audience, to increase these companies' penetration.
Fans do not enjoy the sight of betting logos on their team jerseys and rightfully so, as the most team's currently in the top divisions of UK football have betting firms as their shirt sponsors. Some of these fans lament this dependency and raise the concern that this might just be endangering the younger generation who are now being too exposed to this uncharted territory.
Tiredness Of Betting Ads From Fans
A Survation virtual survey conducted last month on a whooping 1,006 UK football fans from 18 years and above indicates that 58% of the football fans either partially or categorically conceded that the number of football clubs with gambling firms as sponsors is too many.
It might interest you to know that the number of respondents who expressly followed the line of belief that the presence of gambling sponsorship is quite too much was highest. These recorded 32% of the survey's respondents, between the demographic age bracket of 18 years to 34 years.
A likewise huge percentage of 59 percent concurred that football stadiums were truly filled with too many gambling ads, while another 66 percent surmised that there are too many betting ads on broadcasts on football TV channels. Approval was narrowly increased among females than males in these sections.
More than two-thirds, (which constituted 67%) of respondents consented that the UK gambling sector's self-imposed 'whistle to whistle' restriction on things ads in sports broadcasts before 9 pm, which was in place and effective since August 2019, "has not prevented children seeing gambling brands in football."
This position by these respondents does not tally with the UK Betting & Gaming Council, which lately commemorated the cogency of its members' self-imposed bans, asserting that the current regulations had led to a 70% reduction in the amount of betting ads seen by the younger generation. The UK Advertising Standards Authority's very recently similarly discovered in a study that the vulnerability of kids to gambling ads through uncontrolled exposure was likewise declining.
Nevertheless, the Survation poll discovered 47% backing for deterring gambling operators from being sponsors of football clubs. This figure is relatively higher when compared to the 32% who either partly or fully opposed that a restriction was deserved. Furthermore, 44% favoured prohibiting all betting ads, sponsorship, and publicity of football against 34% who did not think likewise.
Finally, football fans were divided on whether their specific football clubs were taking enough steps to assist people impacted by gambling hazards. On one side, 28% concluded that their club did enough to enlighten those around them on the possible risks of betting, while 24% acknowledged that not enough actions were being taken in that regard.
Fans Stop Buying Football Shirts Because Of Ads
From this same survey carried out by Survation, 34% of the respondents confessed their decision not to purchase a replica jersey if it has on it a betting sponsor's logo. This percentage is, however, low when compared to the 44% who had no issues with the idea of wearing a kit that endorses betting.
However, the probability of clubs getting affected by lower sales on their jerseys and kit is likely to be a crucial rationale for any club with an indifferent stance on the matter to decide whether to continue a deal or get on a gambling sponsorship deal newly.
To a large extent, this move by football fans will go a long way to make or mar their bid to disentangle the football sector of the United Kingdom from the gambling industry.