'Goodbye my beloved Chievo': The rise and demise of Chievo Verona, and the man who tried in vain to save them
The commune of Chievo lies four kilometres outside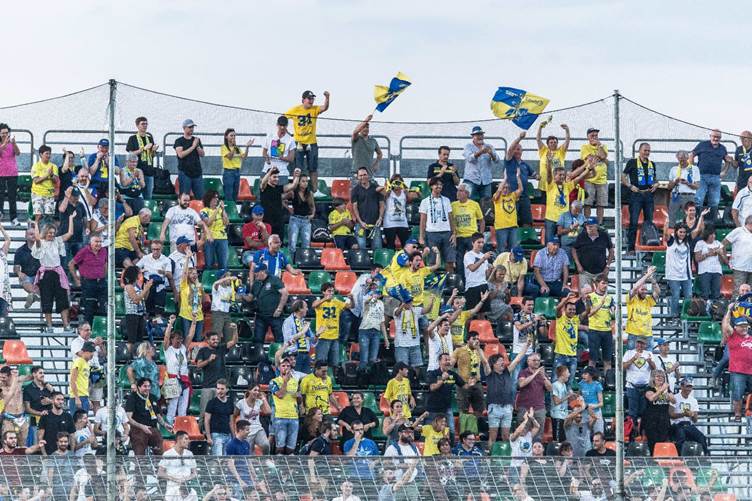 The commune of Chievo lies four kilometres outside the ancient city of Verona. It is a land untouched by the beauty steeping the setting of Romeo and Juliet, instead defined by agricultural hinterland and dotted industrialisation. To the east lies the fair city immortalised by William Shakespeare in his famous tragedy; to the west the shimmering blue-green waters of Lake Garda. There is no reason why anyone should stop in Chievo, save to fill up on petrol before making their way into Verona, or heading in the other direction towards what D.H. Lawrence described as 'a lake as beautiful as the beginning of creation.'
But from this grubby no man's land grew a football club that rose from nothing to become an established force in the Italian Serie A, a football club that, as of this summer, has now ceased to exist as a professional entity. Since their foundation in 1929, AC Chievo Verona punched above their weight, forever operating in the shadow of the city's older and more popular club, Hellas.
Now, they have folded, existing only as a youth team, banished from the Italian football leagues as a result of financial irregularities and tax avoidance.
Is Chievo's demise a case of bad luck? Mismanagement? Or are they merely victims of a global pandemic that has left so many sporting institutions gasping for air? This is the city of Verona's modern sporting tragedy.
From nowhere to everywhere
Originally founded by a group of football fans who lived in the frazione, Chievo began life in the lower leagues of Italian football in the early part of the 20th Century. Following the Second World War, the club yo-yoed around the lower reaches of the footballing pyramid, before the arrival of businessman Luigi Campedelli in 1964 as chairman heralded a new dawn for the club.
Chievo began to rise up the ranks, reaching Serie D in 1975 before making it to the lofty heights of Serie C2 in 1986. As a result, they were forced to share Hellas Verona's Stadio Marcantonio Bentegodi, fuelling a rivalry between the two clubs that would grow into one of Italian football's most intense fixtures, the Derby della Scala.
The once lowly upstarts reached the Serie A in 2001 and spent 17 of the next 18 seasons in the Italian top flight. Chievo took the division by storm in their debut campaign, finishing fifth, whilst rivals Hellas were relegated. Aside from dropping down to Serie B in 2007 — after which they earned immediate promotion as champions — Chievo were largely a mid-table outfit, content to earn mixed results with the occasion big scalp or modest European campaign thrown in to defy those betting on football at Betfair. But when relegation gripped the club once more, things took an ugly turn.
Counting the cost
Chievo finished bottom of Serie A in the 2018-19 season, registering just two victories over the course of the campaign. Eleven straight seasons in the top flight had come to an end, and they were faced with a tough task to get back up. Under Alfredo Aglietti, they only managed a sixth-placed Serie B finish in 2019-20, a campaign rocked by the coronavirus pandemic.
The club struggled to deal with the effects of the pandemic. Revenues took a severe hit, and eventually they were barred from participating in Serie B due to outstanding tax monies, despite protesting that an agreement had been made to defer payments during the pandemic. Chievo Verona were soon bankrupt, in desperate need of an investor if they were to have any chance of surviving. No one could be found to save the club.
After so many years as an established Serie A side, Chievo's status as stalwarts of the Italian game was violently extinguished. It happened fast, so fast that many football fans from other countries will be unaware that Chievo were ever in danger at all.
One man's quest
Sergio Pellissier, who retired in 2019 as Chievo's record appearance maker, saw the club which meant so much to him disintegrate before his very eyes. He joined Chievo in 2000, the year of their promotion to Serie A, and was there for every high and low across a span of nearly two decades.
Pellissier was not willing to let Chievo die. He led the charge to form a phoenix club and rebuild the institution from the bottom up. The Italian sought investors to get his new team, FC Chievo 2021, up and running in Serie D, but none could be found before the registration deadline. The original club continues to operate as a youth team, but the reality is that the old has passed away, and there is no clear route towards resurrection.
"Unfortunately, today the story of this club that gave me so much has come to a close," Pellissier said in an Instagram post. "It's one of the saddest days of my life. I tried with all my strength, and I really hoped to start again with a new club and continue this fantastic story, it would've been marvellous. Unfortunately, I couldn't get it done. So, goodbye my beloved Chievo, you will always be the most important club in my life."
One man's struggle encapsulated the grief of Chievo's modest but passionate support base. Most of their players have moved on, leaving behind the burning wreckage in pursuit of new pastures, wiping their slate clean and starting again. But for the fans, they are left as wandering souls, joined in their hearts to Chievo Verona forever, but without a team to get behind. That is the true tragedy.
Soon after the formation of FC Chievo 2021, a legal warning was sent to Pellissier from the original AC Chievo Verona, and he was forced to change the name of his phoenix club to FC Clivense. It was another body blow to a man who had already lost a part of himself.