FOOTBALLERS AVERAGE PASTIMES
The benefits of leisure activities such as sports,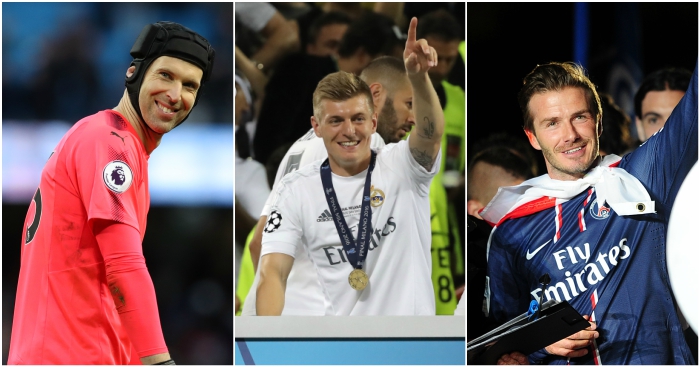 The benefits of leisure activities such as sports, music and art, on health and overall wellbeing, are well documented. For a while now, we have known that doing something you enjoy will improve your mental health. The stresses of day to day living can leave many feeling quite overwhelmed. Footballers, even though they seem super-human, are not immune to this. Even they too need to kick-back and reset once in a while. So what do you do when your day job is playing sports? Let's look at some of the hobbies of your favourite football stars.
MUSIC
Now everybody loves listening to music even though tastes may differ. Besides just listening, though, some famous footballers are surprisingly good at playing. Look at Petr Cech for instance. Cech may now be a technical advisor at Chelsea, but many will agree that at one point he was the best goalkeeper in Europe. Having played for EPL sides Chelsea and Arsenal, the Czech's talent transcends the field. He is also recognised as a keen drummer. Cech has a YouTube channel where he posts his releases, mainly drum covers of bands Coldplay and Foo Fighters. Arsenal promoted the Christmas SoundCech in 2015 which featured Petr on the drums alongside Sanchez. This was a donation drive for the Arsenal Foundation.
PLACING BETS
Some players fancy their hand on the tables. Gerard Pique is one such player. The star Barcelona defender is well known for intercepting the ball and crushing the hopes of many strikers on the field. He is also famed for participating on the Poker High Roller circuit and walking away with respectable amounts. But Pique is not the only one taking a seat at the cards table. Other notable poker enthusiasts include the likes of Cristiano Ronaldo and Neymar.
The famous Italian goalkeeper Gianluigi Buffon, besides being a poker player, was also a betting enthusiast. He is one of the highest-paid goalkeepers in the world and even risked losing the opportunity to participate in the 2006 World Cup in Germany, where the Italian team became the World Champion. He had been unjustly accused of illegally betting on some sporting events. At the time the market did not offer the diversity and variety in events and platforms as can be seen today on www.bet.xyz, which collects reviews of sports betting platforms while also offering a variety of useful guides.
WRITING
When you think of children's books, the last person you'll associate with such a thought is EPL superstar Theo Walcott. The English forward has gained massive fame for his exciting penetration play and laser precision passing. Coming out of the Southampton Academy, Theo James Walcott plies his trade at Everton. He enjoyed a good 12-year stint at Arsenal from 2006 when he was just 17 years old. Walcott is the proud author of four children's books. His work revolves around the life of TJ, a young aspiring footballer. His books were published in 2010, and in 2011 Walcott released his autobiography titled Theo: Growing up Fast.
OTHER SPORTS
It's common to see athletes excelling at more than one sport. We've talked about Petr Cech's drumming skills. The multi-talented Cech can also find his way around an ice hockey rink. Cech plays semi-professional ice hockey for Guilford Phoenix. There are no surprises for guessing his position though. The Czech is also between the sticks here. The Real Madrid star Gareth Bale has also been known to enjoy other sports. Bale joined Los Blancos from Tottenham Hotspur in 2013 for £85.1million. The Welsh international is praised on the pitch for his speed and accurate passing. One thing he has not been shy about is his love for golf. Bale's passion for golf has become the centre of controversy. He posed behind a banner written "Wales, Golf, Madrid." This was part of the celebration of his native country's qualification to Euro 2020. Needless to say, it didn't go down well with the Madrid faithful.
PLAYSTATION GAMES
The great Lionel Messi is a phenomenal player. There've been many debates on who is the greatest between him and Ronaldo; we are sure you also have an opinion on that. What we know for a fact though is that the record six-time Ballon d'Or winner enjoys a good PlayStation game online. EA Sports has been known to hold tournaments where players enjoy FIFA Playstation games, and Messi always performs well. But footballers are not into FIFA only. Fortnite is also very popular amongst many. The likes of Dele Ali, the inspirational midfielder from Tottenham Hotspur and Mesut Ozil among the faithful. YouTube is awash with video streams where these players are sharing their cherished pastimes with everyone.
Just goes to show that even the best footballers need some time to unwind and engage in regular activity.