Chidera Ejuke - CSKA's star story
Chidera Ejuke has been compared to Ahmed Musa by m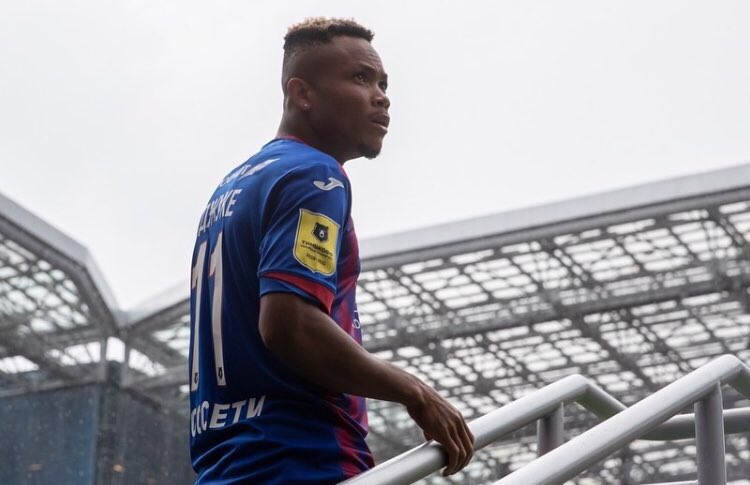 Chidera Ejuke has been compared to Ahmed Musa by many. Ejuke was born in Zaria, a town in northern Nigeria which has a population of 726,000. The town is ancient but very important to Nigeria's industry, with large-scale cultivation of cotton, tobacco, peanuts, soya beans and livestock. Much of the produce is then shipped to Lagos, Nigeria's largest city, from where it is exported. Zaria is not known for much football, however. The only players who stand out are former Newcastle United player Shola Ameobi and 2008 Olympic silver medalist Isaac Promise.
Ejuke played well for the school team and achieved a move to Kaduna, the centre of his home state, where he got his first agent. This was followed by a period at the G-Lek football academy from Jos. Having made progress, Ejuke flew along with a few of his peers to try out for Liverpool. "I was 17 years old and trained with their youth squad. We were also given a tour of Anfield. But the club were not interested in our services. The trip was unsuccessful and it made me sad," the winger said.
Before leaving Africa, Chidi (short for CSKA fans) made his mark at international level having made five appearances for Nigeria U-17 and three for U-19. And he chose a seemingly unusual country to continue his career: the cold Norway was full of surprises for the boy used to the hot sun. It was the first time he had seen snow and experienced sub-zero temperatures in winter. He also arrived in Oslo without relatives or acquaintances. "At first I thought it would be an exciting adventure," he later recalled. - But suddenly I found myself alone, far away from family and friends, in a country with a different language and culture. At the same time, it was a big challenge.
One possible explanation for Ejuke's choice is that Atta Aneke, an African who lives in Norway and frequently transfers promising players to local clubs, has been his agent in recent years. Thus, Aaron Olanare, who later played for CSKA Moscow, joined Wollereng. Chidera also moved there after a successful training camp in Marbella. The coaches noted his speed, attacking skills and great potential, but realized that it would take several months to adapt. Everyone was waiting for goals, and goals are victories and an opportunity for ordinary fans to bet in Betwinner nigeria, for example, it is also a sport!
And so it happened. The young winger made his debut in the top division on 30 April only, coming on as a substitute in the game against Odd. At the same time, he also played for the second team of Vollerenga. "When the season first started I was not in the starting line-up, sometimes not even in the starting line-up. I had to get used to the style of play and improve my tactical skills. The first five or six months I didn't get much playing time. I really wanted to play, but I came out for 10-15 minutes. It wasn't easy, but then I got my chance," the player said.
Chidera made the breakthrough in 2019, scoring six goals in the first 14 games of the new season. The Nigerian changed clubs in mid-July, signing a four-year contract with Heerenveen, who paid €2m for him.
Back in June the media reported on the possible departure of Ejuke from Heerenveen. In the Netherlands, Ajax and Feyenoord were interested in him, but specific offers only came from China (for €7m) and the UAE - and Chidera were apparently not interested. Edjoke was also interested in Galatasaray, but CSKA won the fight for the Nigerian.
By the way, Chidera could appear in Turkey a year ago: Besiktas offered Vollerenga 700,000 euros and a considerable salary, but was turned down. Edjoke was also turned down by Lazio and Celtic - and now he does not regret at all because he chose Heerenveen.