Meet the contenders to the FIFA Balon d'Or
Meet the contenders to the FIFA Balon d'Or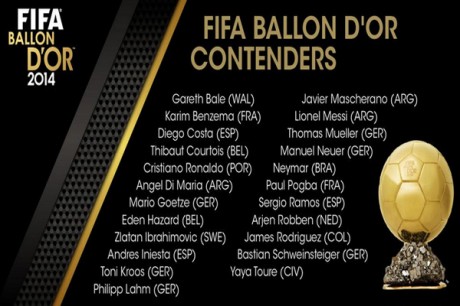 Three candidates: Xavi, Messi, Ronaldo. The FIFA Balon d'Or winner of 2011 will be known on January 9, with the Argentine pointed as favourite for the trophy he has held for two years already.
Meet the contenders to the highest individual award, a joint title given by FIFA and French magazine France Football.
The magician. The Argentine won the award in 2009 and 2010 and finished 2010/2011 as Spanish and European champion with Barcelona, winning the European Supercup as well.
His rivalry with Real Madrid's Cristiano Ronaldo is almost as big as the one between the two Spanish giants, but the wizard seems to take advantage individually as well, despite losing the race to be the top goalscorer in La Liga - he was, however, the one who scored most in the Champions League and was named the best player in the competition.
He has scored 26 goals in the second half of 2010/2011 and his account is up to 29 goals this term, which makes an astonishing 55 goals in only 12 months.
Messi is once again the top candidate to win the award, given his influence in a team who conquered the football world once again last year.
Power. He has led the way for José Mourinho's team, pursuing one goal after another as the merengues try to end Barcelona's supremacy.
The former Manchester United star is more likely to finish second, but was considered the best player in the world by online readers and his team is currently ahead of the Catalan giants in the Spanish La Liga. Ronaldo was the top goalscorer last season with 40 goals in the league and is on his way to keep the position as he has scored 20 goals this term already. His record in 2011 is, however, of 54 goals, one short from Lionel Messi.
Nevertheless, that could not be enough for the forward, who failed to win major titles with Real Madrid. The blancos won the Copa del Rey, precisely against Barcelona, and Ronaldo scored the only goal, but he saw his team be overhauled in the league and in the UEFA Champions League, where they were knocked down by Guardiola's men in the semi-finals.
The brain. On the top-three for the third consecutive year, Xavi is widely seen as the best midfielder in the world, despite not filling his name in goalscoring records.
The 31 year-old is known for his remarkable efficiency and his passing skills. He is the brain and the motor of the much-praised football played by Barcelona, allowing his team to keep the ball moving in their possession. His assisting is also one of his main characteristics.
However, his ability to make football fans appreciate the simpler moves again is not expected to be enough to lift the trophy, coming as third in the odds.