The Holiday Gift Guide for Football Fans
If there's anything we learned from Arsenal fans after Mesut Özil moved to North London, it's that buying nice things is the key to happiness. With the holiday season fast approaching, we're just days away from that time of the year where people rush to malls and shove strangers. As much as you may enjoy that pastime, you could do better than that gift card.
To make the hunt for gifts a bit more digestible, we've compiled a list of a few of our favourite things. From art prints to books and gear, if you can't find a present here, well, you might be tough out of luck.
Art and Design
Does the fan in your life have a bit of empty space on their walls? If so, an art piece might fit the bill. Thankfully, there are an incredible amount of talented artists who love the beautiful game and make their art available for purchase. From Wong Wong's World Cup-themed Thirty Two prints to Mark Yesilevskiy's "Teams, Not Players" series, to Steve Welsh's "A through Z" collection, Meen Choi's collected portraits or Dan Leydon's 1matchaday series, the options are plentiful, no matter what team or player you're looking for. Also check out…
1. Chinatown Branch's paintings of Old Trafford
2. Football Type: An in-depth look at typography in football
3. Daniel Nyari's Neymar Print
4. Stanley Chow's Scholesy
5. Luke Barclay Design's World Cup Group Poster
6. DINKIT's Football Coordinates Prints
7. David Sparshott's World Cup jerseys
8. Ty Palmer's Best XI Series
9. 11cannons' Bergkamp in a Winter Wonderland
Books and Magazines
Is the fan you're hunting for not an art lover? Do they already have their walls plastered over with David Beckham posters like we do? In that case, going the intellectual route and picking up a few books might not be a bad idea. Amongst our favorites this year were Robert Andrew Powell's "This Love is Not For Cowards," which chronicles a season with Ciudad Juarez' Indios and simultaneously tells the story of modern Mexico, and Chris Anderson's book, The Numbers Game, which offers an in-depth look at the developing field of statistical analysis in the game. Also check out…
1. Sid Lowe's Fear and Loathing in La Liga
2. Chuck Korr's Football v Apartheid
3. David Winner's Brilliant Orange
4. Joe McGinniss' The Miracle of Castel di Sangro
5. Eduardo Galeano's Soccer in Sun and Shadow
6. Guillem Balague's Messi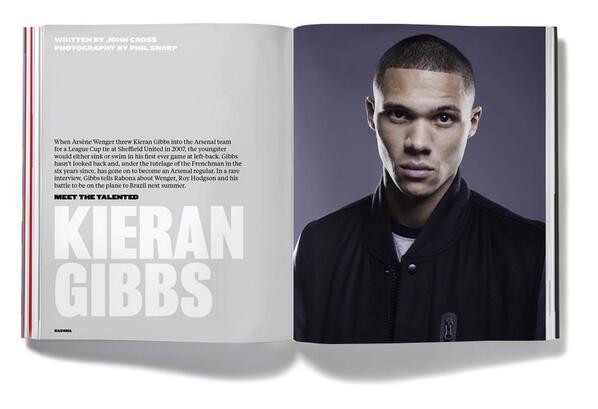 Of course, it's not a bad idea to go the magazine route either. Over the past year or so, a number of grassroots magazines have come to life, each offering a staggering amount of quality content. We're big fans of Howler, The Blizzard, and Rabona Magazine.
Lifestyle and Gear
Ok, fine. Art doesn't work, and your target already has a library chock full of textbooks on the 1970 Brazil team and tiki-taka. In that case, awkwardly find out their shirt size, support creative entrepreneurs or order some new gear. Let's work down the list:
1. The 3nil FC crew and Wunderkind wallet are glorious
2. When your team gets knocked out, support Brazil with this.
3. The LBF Winged Tee will glide you across the pitch
4. Black boots. The Mercurial Vapor IX's do it right.
5. Spain have a nice kit for the World Cup. Clean Sheet Co.'s interpretation is better.
6. The US Soccer Centennial kit. Celebrate 100 years in style.
7. The Brazuca, naturally.
8. The Dos a Cero Scarf from Howler.
9. Modern Anthology's Foosball Bottle Openers.
If you're confident, picking up a new jersey is a good shout. Just be sure to do a bit of research on this one, or you might end up giving a Real Madrid jersey to a Barcelona fan. Actually, on second thought, that's not a bad idea. Just send us the video of your friend's reaction.
The Philanthropic Option
We're the first to admit that giving and receiving gifts is a wonderful part of the holiday season, but when you break it down to its core, the holidays are about doing good. Of course, that can accomplished in a variety of ways, and giving a well conceived gift is certainly a good route, but there are few things better than donating time or funds to a charity designed to benefit the less-fortunate. 
And while there are plenty of charities and causes that could use your support, there are a number of soccer-specific groups that are worth taking a look at. Instead of that new jersey, maybe do a solid and donate in your name or a friend's to any of the following charities:
1. Street Soccer USA, a group using soccer to help the homeless transform their lives
2. Grassroots Soccer. who use the power of soccer to educate, inspire, and mobilize communities to stop the spread of HIV.
3. Little Feet, who help develop soccer-based infrastructure around the world
This gift guide is a product of Eric Beard, Maxi Rodriguez, Zack Goldman, Dominic Vieira, and the AFR Voice team wasting way too many hours on the Internet. Did we forget something? Send us your recommendations on Twitter or in the comments.
Tweet
blog comments powered by

Disqus